For the past few months, I have been meeting my existing clients who have maturity cheques flooding their mailboxes and generous inflow of money back into their CPF. 🙂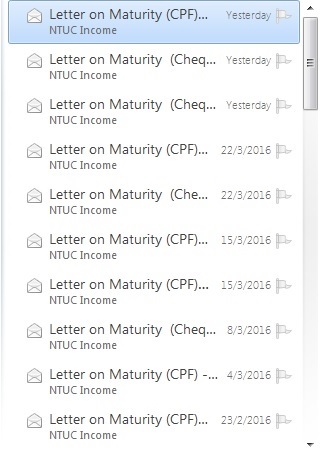 It is a beautiful feeling, seeing them beaming happily, thanking me profusely, delighted that their hard earned savings have worked hard for them over the years and it is time for them to enjoy the fruits of their labour.
I congratulate them, reminding them, that it is their decision to choose to start saving early for their retirement when they were young.
…………………………………………………………………………..
…….
In my profession as a financial consultant in Singapore, I help all my prospects/clients chart their short term and long term goals, devise a plan to achieve them, and strategically revise and review it every year.
After proposing suitable plans in accordance to their financial objectives, risk profile and investment time horizon, there are some who still procrastinate. Some who still want to think it over. Some who find it difficult to make a decision.
For those of you who are reading this blog and have been contemplating, to start savings for your retirement the shariah compliant way in Singapore, I have GOOD NEWS to share with you.
NTUC Income has just launched a special pro­mo­tion. Sign up plans with us during the promotional period and you will receive Cap­it­aMall shop­ping vouch­ers.
…………………………………………………………………………………
……………………………………….
Ibn Abbas (R) reported that the Prophet Muhammad (Peace Be Upon Him) said to a man while he was advising him:
"Take advantage of five matters before five other matters:
your youth, before you become old;
and your health, before you fall sick;
and your richness, before you become poor;
and your free time before you become busy;
and your life, before your death."
(Musnad Imam Ahmed)
……………………………………….
………………………………………
To me, that is the most profound advice that I took and shared with the rest of my clients who are still young.
Start planning your finance early. Don't wait until you are old and then start worrying on how you are going to retire when the funds are inadequate or not enough to sustain your retirement lifestyle.
If you want to know how to save up for your retirement the shariah compliant way in Singapore, do SMS/Whatsapp me at 96520134 for an appointment. Take charge of your finance today and SMS/Whatsapp me immediately.
Jazakallah Khayran… 🙂
p.s. By the way, if you wish to discover a simple & halal way to create a positive monthly cashflow and calculate your net worth for FREE, then please click here…