Recently, a number of newly weds came to me asking my professional perspective on coverage against death, total & permanent disability and critical illness.
They feel a sense of responsibility.  They are concerned for their loved ones should anything happen to them.
To me, this is GOOD news.
Because it reflects ONE THING.
It shows that the level of awareness on the needs for wealth protection in our Muslim community in Singapore has INCREASED significantly over the years.
………………………………..
…………………
.
As we all know, all of us work to earn an income.
Income to feed our family.
To pay for our food.
Our housing mortgage installments.
Nafkah for our wife.
Allowance for our parents.
Basically to pay for our expenses.
We use our INCOME to pay for our living EXPENSES.
…………………………………………….
………………………………
…………..
BUT….
What if one day we are no longer around ?



What if one day, we are totally crippled?
Totally paralyzed.
Not able to move at all?

What if critical illnesses were to strike?
Our Living Expenses will

CONTINUE

.
But Our Income will most likely

STOP!


…………………………………………………….
…………………………………………….
Thus, today, I am going to share with you aspects on wealth protection.
I want to share with you…
.
5 Ways On How You Can Protect Your Wealth, The Shariah Compliant Way in Singapore.
……………………………………….
………………………
……………
1) Be Healthy By Watching Your Diet
The Arabs of old said: The stomach is the home of disease and restraint is the basis of the remedy.
To me.
Fasting is the Answer.
I personally love the month of Ramadan.
After our stomach that has been working hard for the 11 months, Ramadan presents an opportunity for our stomachs to rest.
Other than the month of Ramadhan where we not only fulfill our religious obligation and get to rest our stomach,
I do my best to fast on the recommended (sunat) days in Islam.
I have created an infographic below that I personally use to take note of the recommended (sunat) days to fast.
Other than exercising restraint in my tendency to overindulge, it gives me an opportunity to accumulate good deeds (pahala) for the akhira in the future.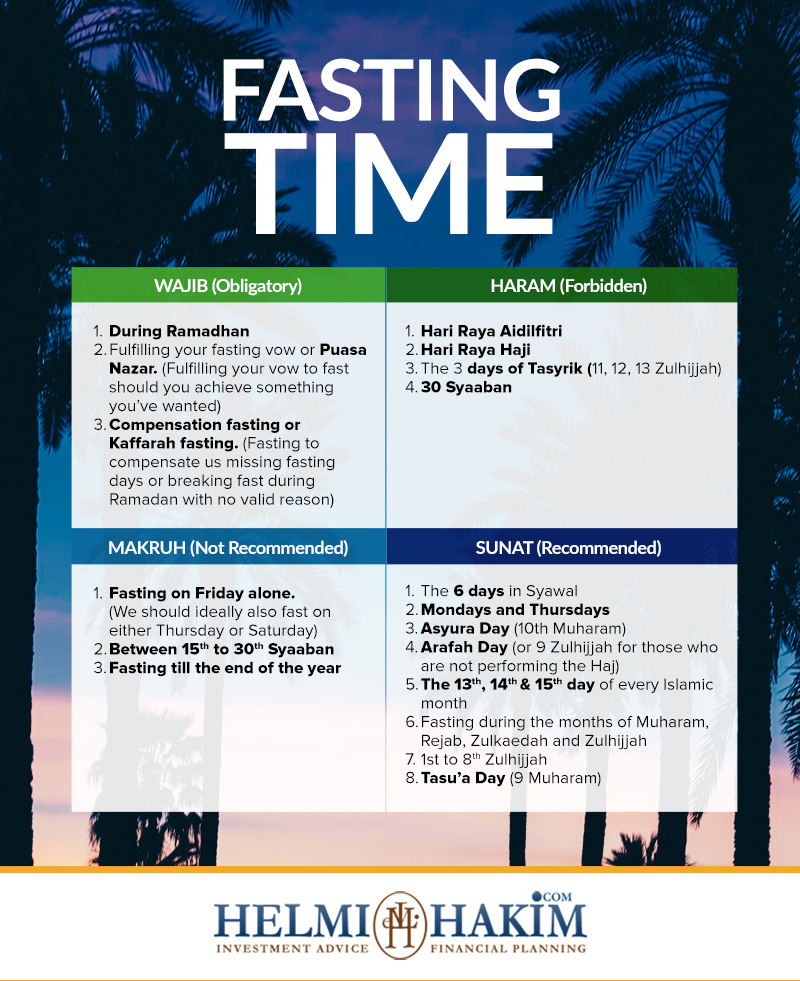 Other than fasting, our beloved Prophet Muhammad (Please And Blessings Be Upon Him) has taught us the formula for moderation when we eat our food.
We should fill our stomachs with
1/3 of food,
1/3 of drink
And leave 1/3 for breath.
Prophet Muhammad (Please And Blessings Be Upon Him) said:
"No human ever filled a vessel worse than the stomach. Sufficient for any son of Adam are some morsels to keep his back straight. But if it must be, then one third for his food, one third for his drink and one third for his breath."
[Ahmad, At-Tirmidhi, An-Nasaa'I, Ibn Majah – Hadith sahih]
…………………..
………..
.
2) Be Healthy By Exercising Regularly

To me, health is wealth.
Our body is an amanah from Allah S.W.T. on this earth.
We have to take great care of it by exercising regularly.
All of us know exercising is important.
It keeps us in shape. Makes us look better.
Makes us look younger.
Boosts our energy.
Help us lose weight and  of course, lower risk of some diseases.
Most importantly, it keeps us alive.
A lot of people are rich.
But what is the meaning of wealth when you can't enjoy that plate of nasi minyak with rendang and ayam masak merah?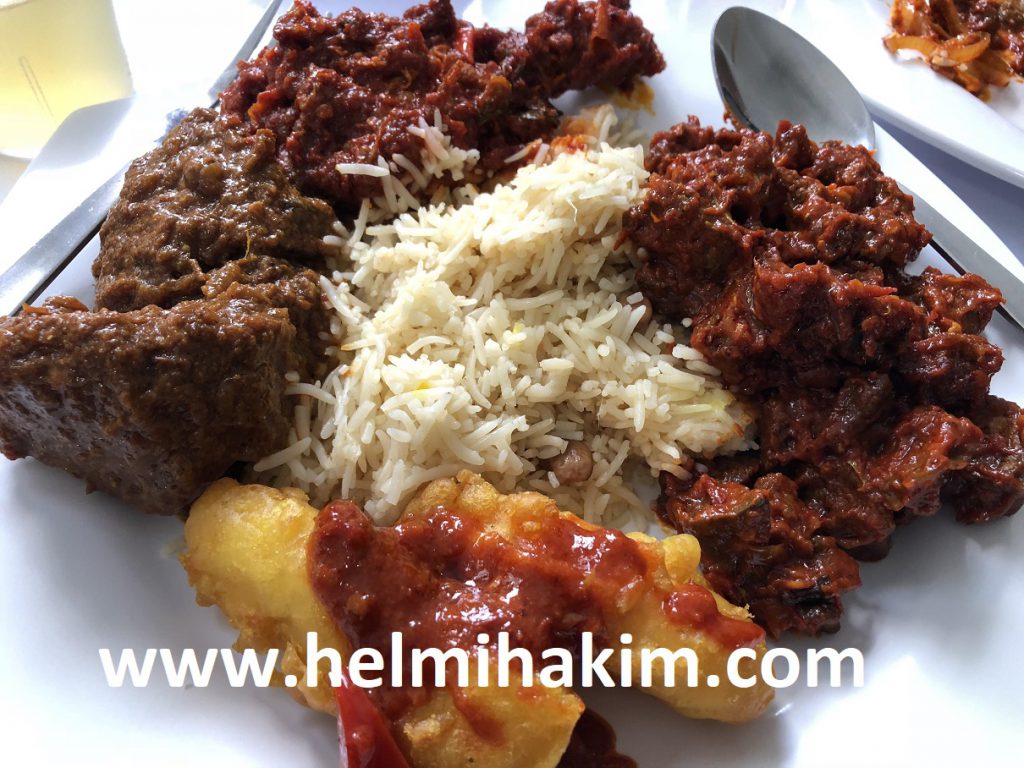 Or that slice of durian D24?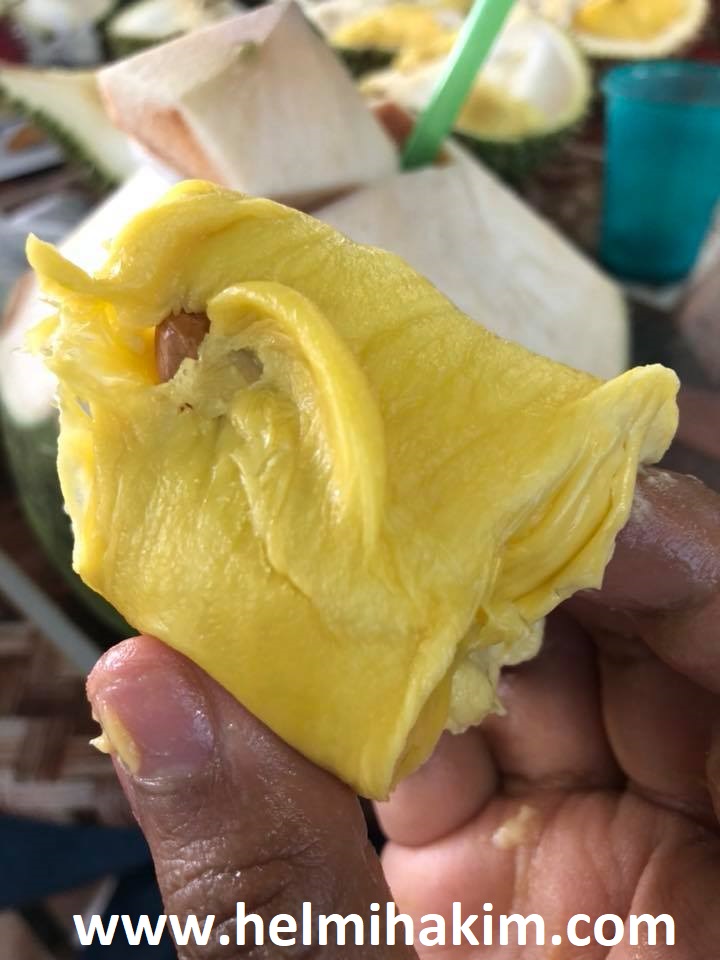 Because you are sick.
What is wealth when you don't have the energy, the stamina to play "police and thief" with your children?
Panting.
Gasping for air just by chasing them around your house?
Safeguard your health by making time to exercise while you enjoy your wealth.
3) Be Healthy By Quitting Smoking
When I draft up the cashflow statement for my prospects.
Especially those heavily in debt, I like to narrow down to how much they can SAVE if they quit smoking.
Smoking is a very expensive habit in Singapore.
1 package of Marlboro cigarettes in Singapore is SGD$14 (I Google-d for the info)
$14 X 30 days = $420/mth
$420/mth X 12 months = $5040
That $5040, you can use to enjoy going on holiday to Europe with your loved ones.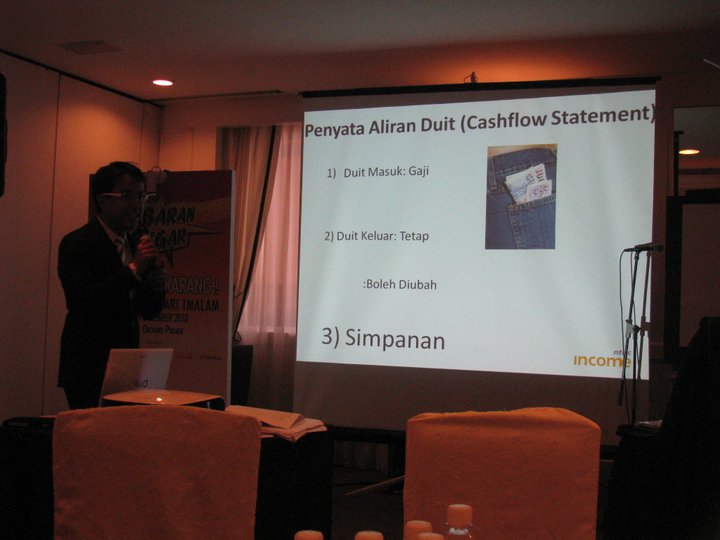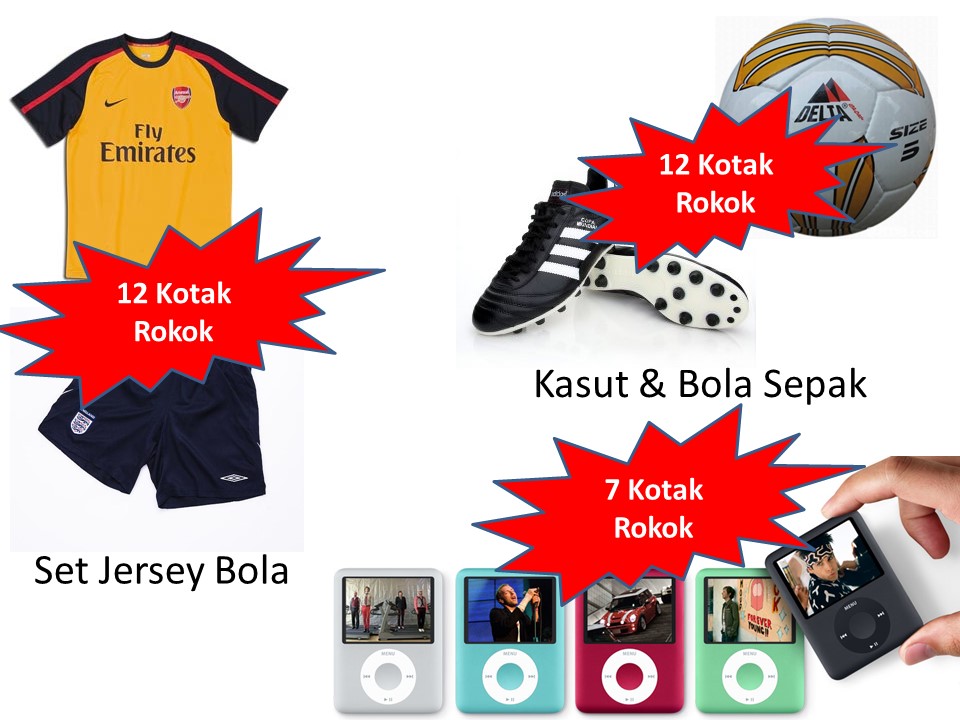 (Pictures of me conducting Quit Smoking Campaign organised by Health Promotion Board)
.
Besides that, smoking is bad for your health.
Smoking can cause fatal diseases such as pneumonia, emphysema and lung cancer.
Yes. Think about your love ones.
Seek help. Protect your wealth by being healthy.
Take the first step to quit smoking today.
.
4) Hijama Cupping (Bekam) 
This is something I personally do twice a year to remove toxic blood from my body.
(You can get a qualified Hijama specialist to assist you with this)
Hijama Cupping Therapy is a Sunnah of our beloved Prophet Muhammad (Peace and Blessings Be Upon Him)
Prophet Muhammad (Peace and Blessings Be Upon Him) said:
"Cupping is the most helpful procedure for human beings to cure themselves."
(Sahih al-Bukhari 5357)
The importance of hijama in the divine guidance can further be stressed by the following words which were related to the Prophet SAW on the night of Israa (ascension to the heaven) by angels:
"O Mohammed, encourage your ummah (people) to do hijama (cupping)". – Saheeh, Sunan Tirmidhi.
Abdullah ibn Abbas (may Allah be pleased with him) reported that the Prophet (Allah's peace be upon him) said: "I did not pass by an angel from the angels on the night journey except that they all said to me: Upon you is cupping (hijama), O Muhammad." [Saheeh, Sunan ibn Majah]
 "The best medicine with which you treat yourselves is cupping, or it is one of the best of your medicines." Or "The treatment for you is cupping." [Bukhari: 5371]
5) Have a shariah compliant critical illness plan in place
A Malay proverb says, "Kita merancang, tuhan menentukan."
We can plan on protecting our wealth by being healthy. By being fit.
Plan whatever we want.
Yet as Muslims, we believe in the 6th Pillars of Iman, Qada and Qadar.
If things are to happen, they will happen.
By the will of Allah S.W.T.
That is why after making Doa to Allah S.W.T.
and taking appropriate actions to maintain our health, we need to have contingencies in place.
Our family is an amanah from Allah S.W.T.
We need to take care of them. We need to have Plan B, in case Plan A doesnt work.
We need Halal insurance in Singapore, as part of our contingency plans if things happen.
Halal insurance in Singapore provides you with 2 pillars.
Firstly is Income Protection.
We earn Income to pay for our mortgage loan, our car and support our family.
Should death, total & permanent disability or critical illness were to strike, your income will STOP.
Yet, most of your expenses will continue.
Family needs to eat.
Utility bills still need to be paid for.
Who is going to fund that if you no longer earn an INCOME?
Halal insurance in Singapore will help you and your family.
Proceeds from Halal Insurance will help to pay for your living expenses, should death, tpd and critical illness were to occur.
And.
Alhamdulillah. If nothing happens.
If you are perfectly healthy. Perfectly OKAY during your retirement age.
Good News for you.
The plan has cash value.
You can choose to liquidate the money from Halal Takaful funds and use it as part of your retirement.
In short, Halal Insurance provides you with 2 pillars.
Protection and Cash Value.
My mentor used to tell me, "The difference between a poor old man and elderly gentleman is INCOME."
You don't want to depend on your children to fund your retirement goals.
You want to be proactive. You want to take charge of your life.
Halal Insurance in Singapore is the solution! 🙂
……………………………………………..
……………………..
Now… I hope you have benefited from my sharing.
If you are seeking a mentor, coach, consultant to share with you practical aspects on how you can protect your wealth using Halal Insurance in Singapore
OR
save, accumulate and grow your money the shariah compliant way in Singapore, I am always ready to help you.
You can always whatsapp/sms me at 96520134 to schedule a FREE consultation.
Or perhaps click here to schedule an appointment.
You will want to schedule it asap because I can only accommodate 5 slots for this month.
Click here to schedule your FREE consultation today!
Take Care!  🙂
Latest posts by Helmi Hakim
(see all)