Alhamdulillah… My facebook page is up after hiatus for about a year.
Please help to like my page here,  www.fb.com/helmihakim.fp/
and then click the button, "See First".
I will be creating live videos in the future, sharing specifically how you can save, accumulate and grow your money the shariah compliant way in Singapore.
Attached are some testimonials for my signature programs,
"Unlock Your Money" session
and also "Your Financial M.A.P" session.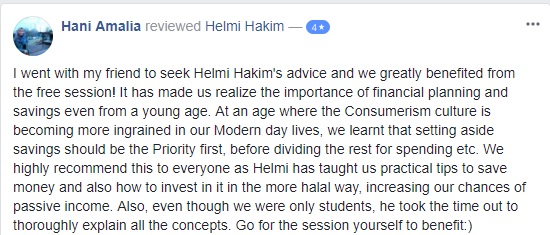 If you want want to arrange a complimentary one hour private financial consult session (valued at $500) with me at my Tampines Point office,
whatsapp me directly at 96520134.
Consultations after 8pm will be at Punggol Waterway Coffeebean.
I am fully booked till end of this year, and can only accommodate 3 additional sessions per week, starting 20th November 2017 till year end. If you are interested, reserve your FREE session now!
See you! Insya'Allah!  🙂