Note: The story that I'm about to share is a fiction, and not a reflection of reality in Singapore.
The story goes….
On a bright, Sunday morning at a housing estate in Yew Tee, Misnah was beaming ear to ear, excited because she is going to finally get married to the love of her life, Ahmad the following week.
She and Ahmad had diligently save money in their Al-Wadiah savings account, giving Hibah of 0.8%/annum and the money accumulated is just nice to pay for their combined wedding at a halal restaurant.
They have also bought their lovely freehold condominium with a special themed concept and successfully attain Murabahah financing.
Ahmad since the first day, he started working, had diligently, invested his money in a shariah compliant equity fund, and now making a superb profit. He is smart, because during the subprime mortgage crisis in year 2008, he did a lot of top up, thus enhancing his portfolio return by so much more. That money is just nice, for their honeymoon trip to Morocco and also to finance the renovation cost of their new house. Ahmad is smart because gain of profit through capital appreciation is not taxable in Singapore. Alhamdulillah, all the profits belong to him.
Their wedding ensued with love and a year later, they were blessed with a beautiful daughter, named Siti.
Little did Ahmad know, his wife had also been investing in shariah compliant REITs, earning quarterly dividends, enough to pay for pampers and milk.
Ahmad gets his family covered under Islamic Insurance Takaful, because he loves his family.
………………………………………………………………………….
………………………………………………………………………….
They also heard that the government is building an expressway called PUE (Pulau Ubin Expressway) and just issued Sukuk based on the ijarah model.
The Sukuk or Islamic bond is shariah compliant because the returns is not from interest coupons but from the toll reapt from the specially designed ERP gantries. Once the cost of building the expressway is recovered, the Sukuk will be redeemed at par.
Meanwhile, Ahmad quit his job as an engineer to fulfil his childhood passion to run his own business. He and his friend form a musharakah partnership, with 60:40 share. To set up the factory, his partner and himself, do it via the  Istisna contract with XYZ financial institution and purchase the special raw materials from a local distributor under Salaam contract.
Time flies, their only daughter, Siti has grown up and want to go to a university in UK. She gets service based ijarah financing method to pay for her tertiary education. Her parents did some savings based on non restricted mudarabah, since she was young, and the money is just enough to pay for her food and accommodation while she is studying in UK.
Upon graduation, she found her soulmate, got married and the cycle continues……
………………………………………………………………………………………………………..
………………………………………………………………………………………………………..
Now, back to reality.
Many of you might have read about DBS winding down its Islamic banking unit, The Islamic Bank of Asia Limited (IB Asia).
When I chat with my friends, they told me, that this is not surprising. HSBC insurance removed its Takaful products a few years back. NTUC Income closed its sukuk fund, NTUC Income Amanah bond too. It is some kind of a downward trend. 🙁
So the pertinent question is, "Is there really potential for Islamic Finance to grow in Singapore?"
………………………………………………………………….
………………………………………………………………….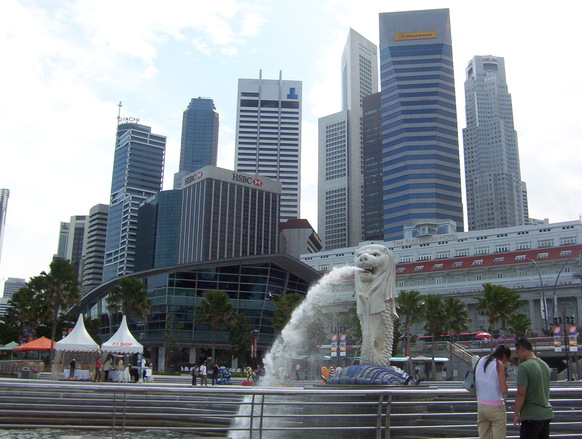 In my opinion, Singapore is the best country in the world to establish and grow Islamic finance.
We have a strong, well respected government, and a reputable brand name of a reliable financial hub with proven track records. Our economy is sound. We are rated the top investment grade of AAA by Standard & Poor. Our finance industry in Singapore is well regulated, with competent and highly qualified financial professionals. We are honest, sincere and if contracts or partnerships were formed, we stick and hold by to it.
Islamic finance thrives in such environment. 🙂
Although some may argue that, Singapore lack the critical mass of domestic consumers for Islamic Finance products, I believe that Singapore's Muslim population of 700,000 is quite a sizeable niche market to start on and expand from there. In fact, I believe that Singapore's Muslim population of 700,000 is a good core to start on.
………………………………………………………….
………………………………………………………….
So with all the advantages that Singapore has to offer, how can we catapult ourselves to success? What is our story that we can share with the rest of the world, when it comes to Islamic Finance? 🙂
Stay tune on my blog, to discover more. Insya'Allah… 🙂
p.s. By the way, if you wish to discover a simple & halal way to create a positive monthly cashflow and calculate your net worth for FREE, then please click here…
Latest posts by Helmi Hakim
(see all)