Alhamdulillah. I just finished my 2-week army reservist. 🙂
Being in vegetation for a while with combat rations as my food supply, I was deprived of good food.
Many types of food ran into my mind.
Nasi Campur Sinar Cahaya at Pasar Geylang Serai
Roti John Steak Mama Power @ Old Woodlands
Epok Epok Ganja @ 1 Bedok Road
Everything seems so delicious at that point of time! … and then comes, this Nasi Lemak Burger by Macdonalds… 🙂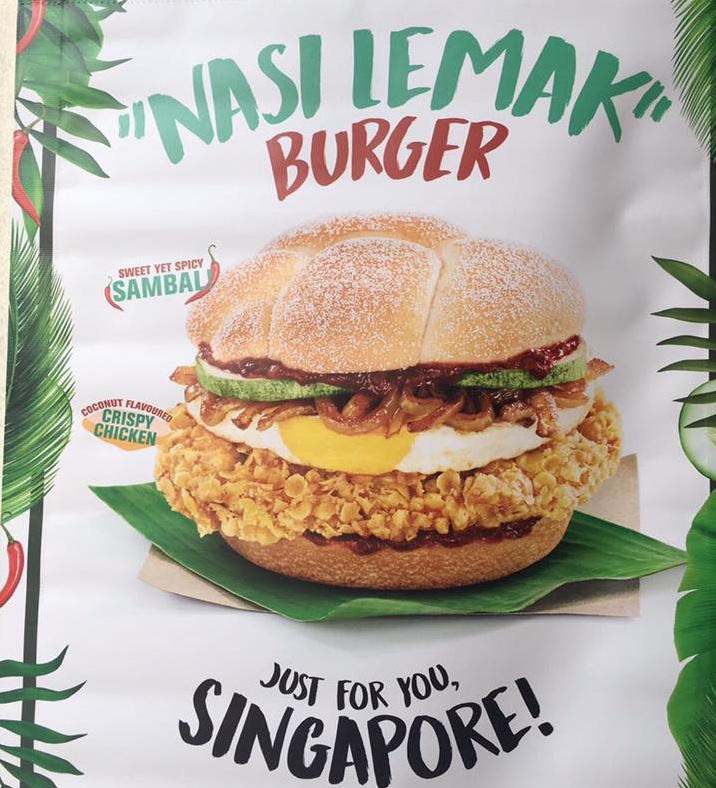 Okay lah. This is something unique.
Malay food combined with Western Food.
Nasi Lemak combined with burger.
…………………………….
…………….
Never tried before.
So the first thing I did after I outpro and relaxed at home, was to chill at Macdonalds with my wife, sharing a Nasi Lemak Burger.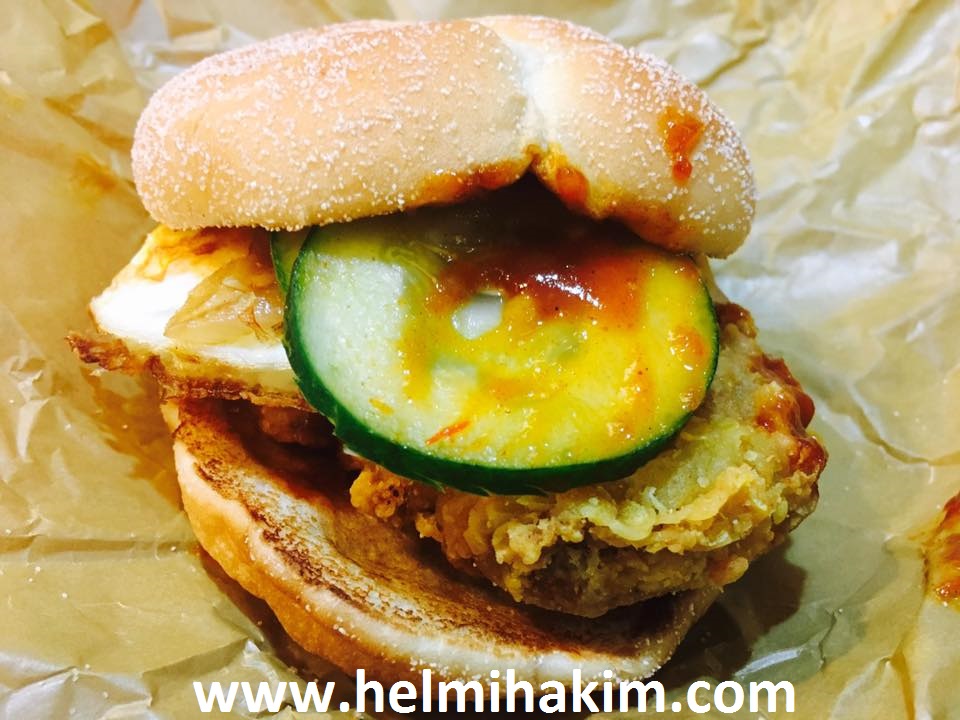 As I unwrapped my burger… a nice hint of the smell of santan greeted me….
and then out came the coconut flavoured chicken thigh patty, fried egg, caramelised onions, two slices of cucumber and a smear of sambal.
Those who have tried this burger definitely would agree with me, what makes this burger special is the sambal.
The sambal is amazing!
The sweet, spicy cameralised onion sambal is so refreshing, tantalised my tastebuds, and reminded me of the RM1.50 roadside Makcik Nasi Lemak at Johor Bahru.
Sweet, yummy sambal wrapped together with Nasi Lemak in banana leaves and Utusan Malaysia newspaper.
Difficult to find in Singapore, this kind of Nasi Lemak.
Overall, I will give Macdonald Nasi Lemak burger 5/5.
……………………………………….
………………
……….
This Nasi Lemak Burger also serves as a learning lesson for Islamic Finance Practitioners in Singapore.
Nasi Lemak Burger combines the BEST of Malay food – Nasi Lemak – and the BEST of Western food – burgers.
Islamic Finance Practioners can combine the BEST practices in Islamic Financial Planning and Conventional Financial Planning.
Let me explain and give practical examples.
………………………………………………………………………………
…………………………………
For Islamic Financial Planning, we save our contingency/emergency funds in Al Wadiah Savings Account.
Alhamdulillah, we know it is shariah compliant because it gives Hibah instead of Interest.
How much to save as contingency funds?
Best practices in conventional finance is  to adopt a basic liquidity ratio of 3-6 months.
It means you can have 3-6 months of your monthly expenses in your Al Wadiah Savings account.
……………………………………
…………………….
…………
In Islamic Financial Planning, we know in order to buy a house, the shariah compliant way is to use Murabahah, Diminishing Musharakah or Ijarah Wa Iqtina financing facilities.
In the future, once shariah compliant home financing is available in Singapore, we don't overleverage and immediately
buy properties worth millions of dollars.
Take millions of dollars of shariah compliant financing because it is shariah compliant.
No. We dont do that.
We follow the best practices in conventional finance which is to follow closely this ratio known as,
Total Debt Service Ratio (TDSR).
TDSR= Total Debt Yearly Repayment/Annualised Take Home Pay
This ratio measures the proportion of take home income, used to make regular payment of debts.
If it is lower than 35%, means HEALTHY.
It means that there is sufficient take home pay available to service debt repayments.
A ratio of 45% or above for this ratio is generally considered unhealthy and may risk of not being able to service these regular debt repayments.
Follow the recommended TDSR guidelines, even though if the financing facilities are shariah compliant.
Dont overleverage.
…………………………………………………
…………………………….
…………………..
When you invest your money the shariah compliant way for your retirement, you can follow certain personal financial ratio guidelines.
…………………..
.
Savings Ratio = Savings/Gross Income
This ratio calculate the proportion of your income, you set up for savings.
You need to save at least minimum 10% of your gross income.
Gross income in this formula should be taken from the cashflow statement.
(Click here to download a free report on how you can create your own cashflow statement)
…………………….
………………
Investment Assets To Net Worth Ratio = Invested Assets/Networth
This ratio compares the value of invested assets with networth.
An individual should have clear targets on accumulating capital for the longer term, excluding investment in the house that you are staying in.
The target is to have sufficient assets accumulated for retirement and other financial purposes.
If it is more than 50%, means HEALTHY.
……………………………………………….
………………………..
……..
Above are just some best practices in conventional finance that I personally adopt to my Islamic Financial Planning services.
If you are looking on the practical aspects on how you can save, accumulate and grow your money the shariah compliant way in Singapore,
you can always whatsapp/sms me at 96520134 to schedule a FREE consultation.
Or perhaps click here to schedule an appointment.
You will want to schedule it asap because I can only accomodate 5 slots per week.
And next week, I will be heading for my long holiday to Oman and Dubai. Insya'Allah.
Click here to schedule your FREE consultation today!
Take Care!  🙂
Latest posts by Helmi Hakim
(see all)