I always believe 2 things will shape you to who you become in life.
1) The People Whom You Spend Most Time With Everyday
2) The Books You Read
Alhamdulillah. All Praises to Allah S.W.T. 🙂
A few days ago, I finished reading a New York Times bestseller book: Tools of Titans.
This 700-page book was written by Tim Ferriss who also wrote other successful books such as The 4-Hour Work Week.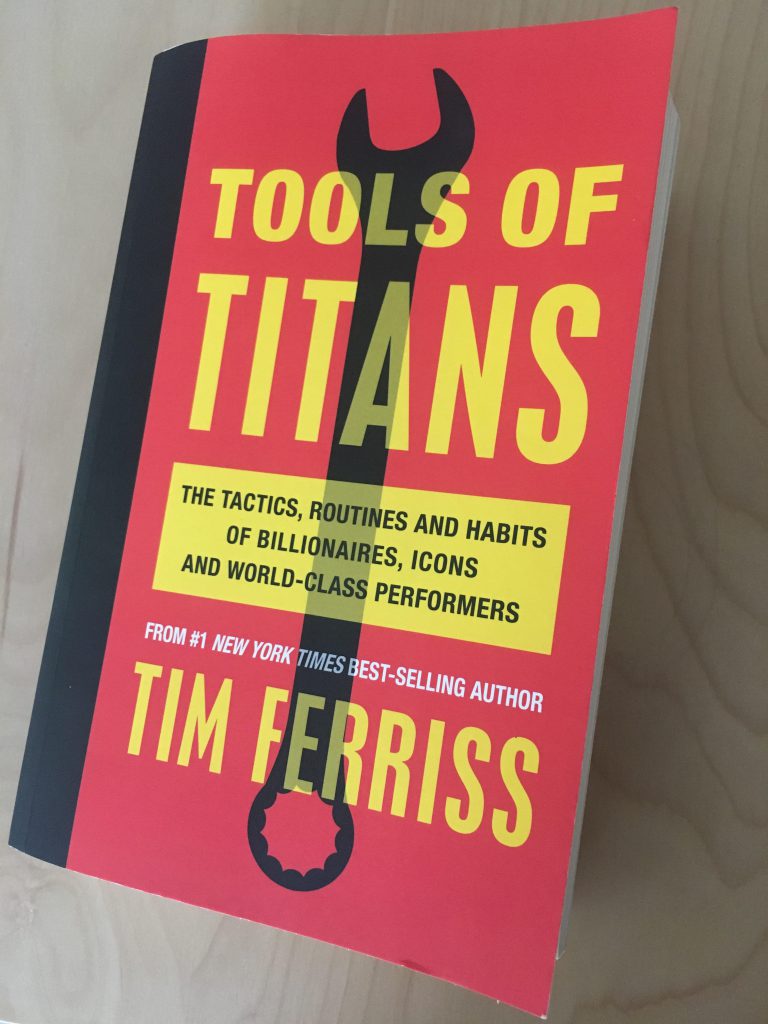 I was attracted to Tools of Titans because it has nuggets of wisdom from over 113 world-class performers.
Billionaires.
Global icons.
High-achievers of the world.
My take is that if you want to be successful in whatever you do.
You have to model successful people.
People who have already achieved the results you desire.
And this book offers just that!!! 🙂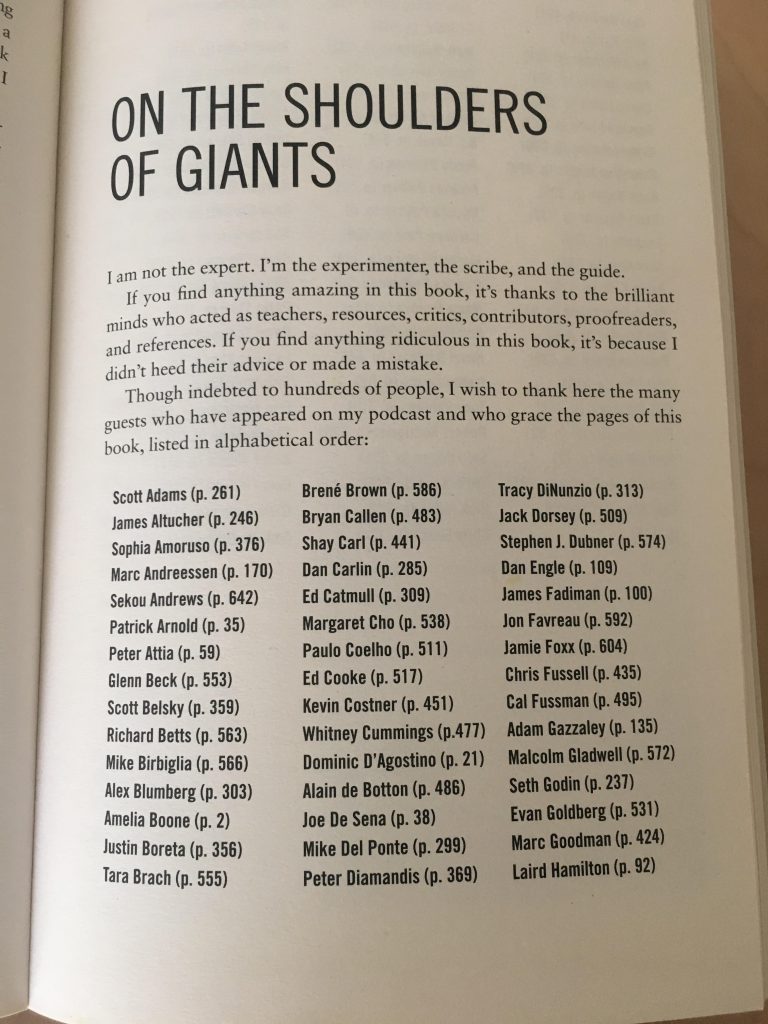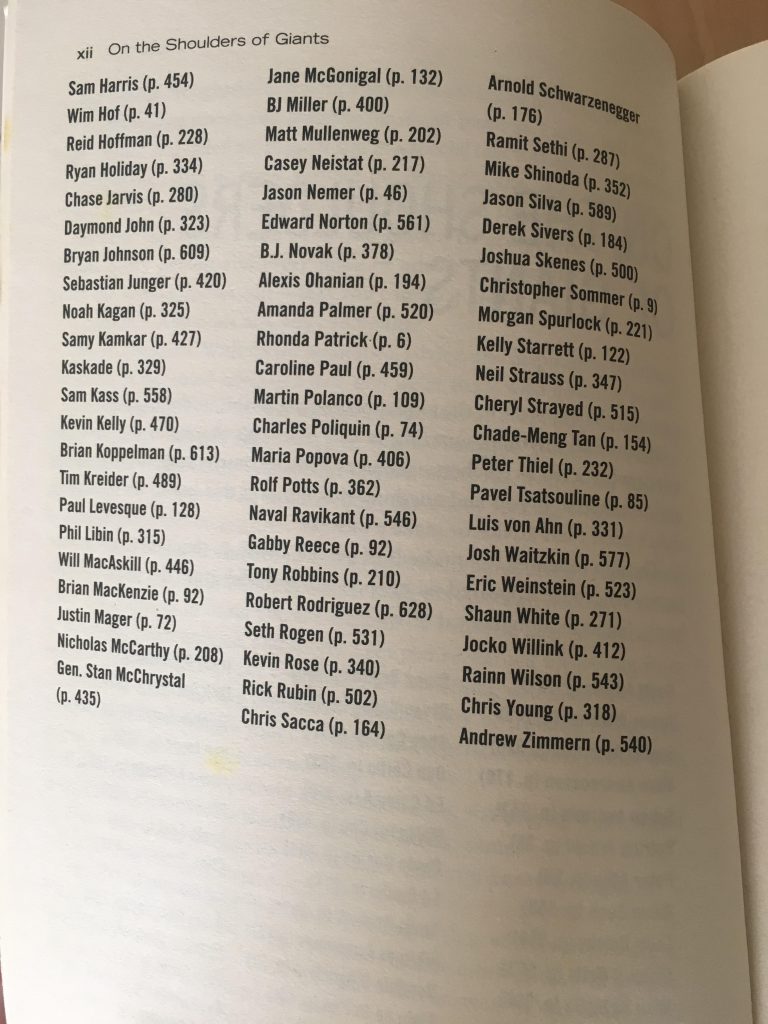 I like Tools of Titans because it is generously peppered with simple-to-copy actionable habits & routines done by these world-class achievers.
They are so simple that we can incorporate their habits into our lives – today. 🙂
……………………………………………..
………………………………………….
………………………….
For most of you whom have been following my blog posts dilligently.
You would have known that I am a financial consultant that specialise in helping Muslim families plan their finance, the shariah compliant way in Singapore.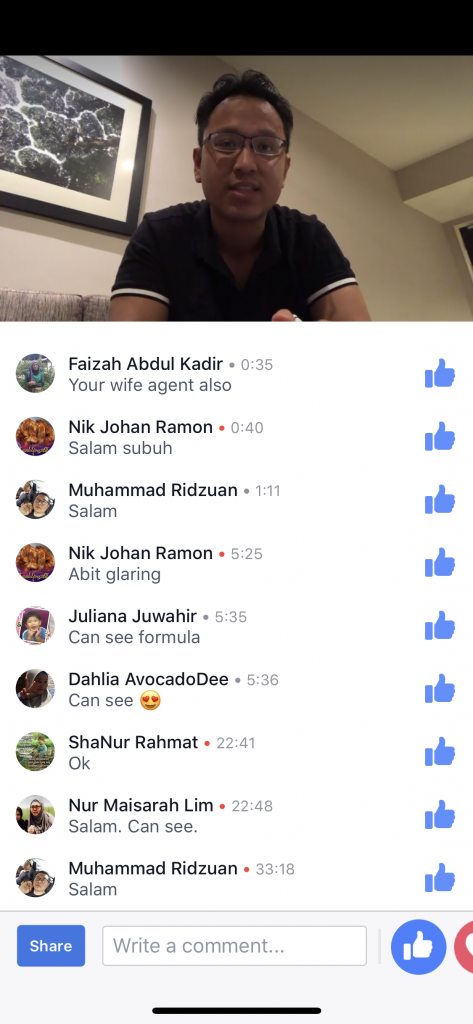 (Myself doing facebook 'live'. LIKE my facebook page, https://www.facebook.com/helmihakim.fp/
if you want real time financial tips in video format!)
As a practising financial consultant, I actively look out and find ways how to combine traditional, conventional business concepts.
And synthesize them together with shariah compliant best practices in the Islamic World.
In accordance to our glorious Quran and Hadith.
So here I present to you….
……………………………………………………………………………………………………………………………
…………………………………………………………………………………….
………………………………………………………………
…………
5 Shariah Compliant Hacks I Learn While Reading 'Tools of Titans' Book…
…………………………………………………………………..
…………………………………………….
………………………………………..

1. Taking Action is What Matters
There is a saying which goes: 'Ideas are nothing. Doing is EVERYTHING.'
We can get any information we want using Google. Or borrow books from library.
Ask experts in their own field.
Or perhaps brainstorm them ourselves! 🙂
Yet, what is more IMPORTANT is what we do with the information.
Taking action is what matters!
Jim Rohn, a motivational guru, mentioned in this book: "If you let your learning lead to ACTION, you become wealthy." 🙂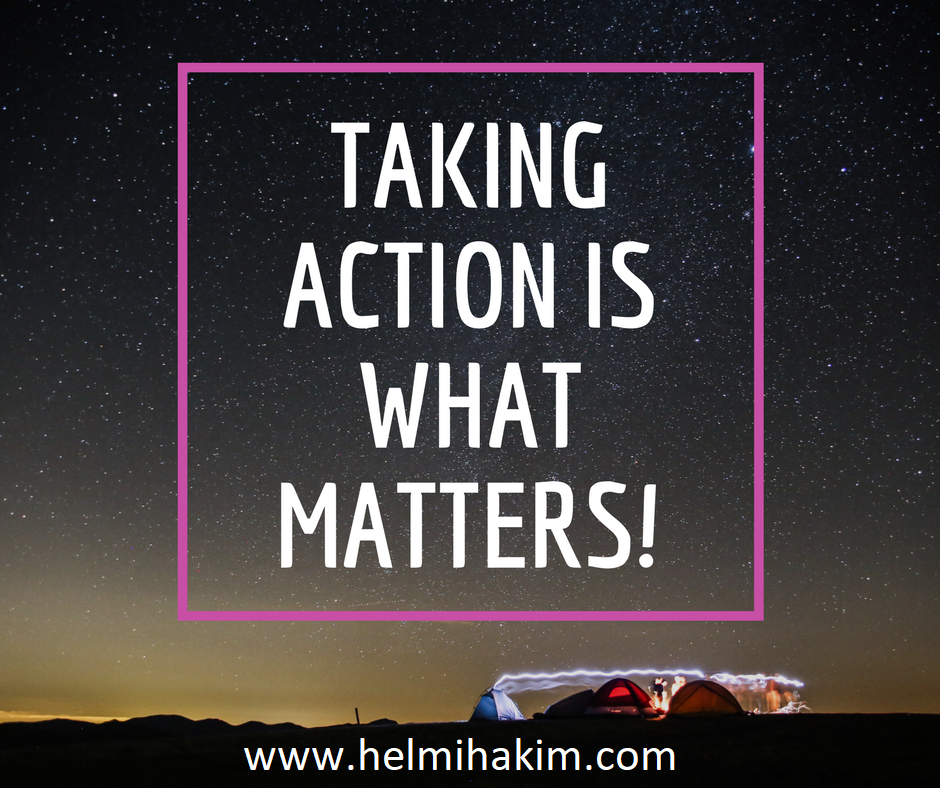 Personally, I like attending seminars and I've been attending seminars since 10 years ago.
These seminars are not cheap – some cost thousands of dollars. When I'm at a seminar, I will give my 100% focus and implement strategies on the spot.
If I'm unclear about something, I will raise my hands and even speak into a mic in front of a large audience – just to clarify my doubt.
What happens after the seminar ends?
I apply the strategies ASAP and turn all my new knowledge into ACTION.
My actions have to lead to great results at work.
I will ensure that if I invest $1000 in a seminar, my results will DOUBLE, TRIPLE or QUADRUPLE the $1000 I spent.
In this book, Benjamin Disraeli's quote: "Action may not always bring happiness, but there is no happiness without action" rings true for me. 🙂
……………………….
…………..
………
During my "Your Financial M.A.P." session program, I share with my prospects on how they can clear their consumer loans FAST.
And at the same time, save their 3-6 months emergency expenses FAST.
I share with them.
Today, you come to me with money problems. Allah S.W.T. move your heart to meet me.
I never reach out to you. You are the one who come to me.
The fact you meet me is a Qadr from Illahi.
I am just the asbab. The intermediary to share with you how you can solve your money problems.
If Allah S.W.T. shows you the way how you can solve your money problems, and you dont take action, you are the one who lose out.
Allah will not change the people, unless the people change what is in themselves.
Doa. Usaha( Action). And Tawakkal.
From an Islamic point of view, knowledge (ilmu) and action (amal) work hand in hand together.
………………………………….
……………….
……..
2. The best investment is….in yourself.
According to Anthony Robbins, paying $35 for a 3-hour seminar (when he was 17 years old) was the turning point in his life.
He was reluctant to spend that money at first. Why?
Because he was a cleaner earning $40 a week at that time!
But he got clarity and direction with that $35 – which was priceless.
For me, although I am a finance degree holder, and considered fairly experience in my line of duty,
I continue to invest in myself.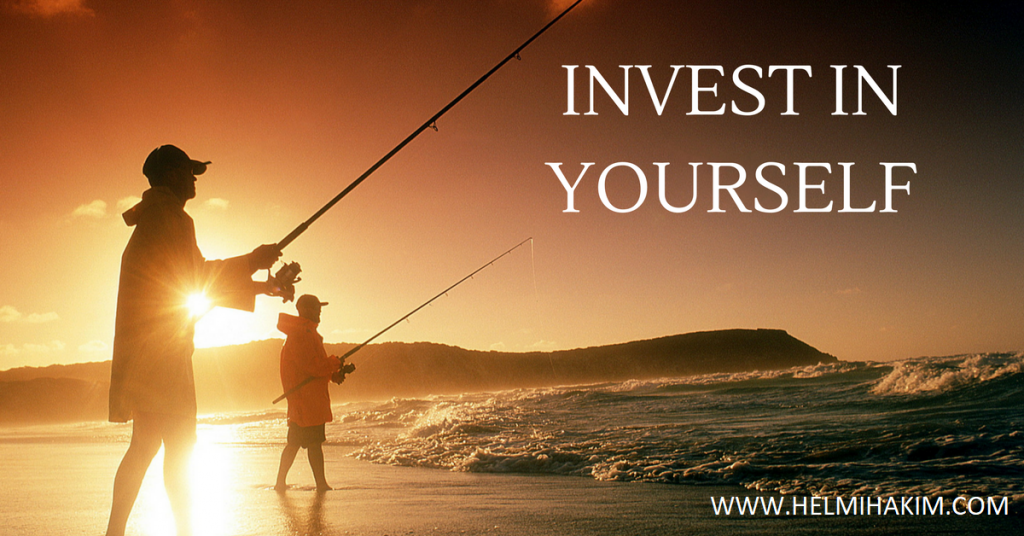 I bought books. I took more Islamic Finance certifications.
Undergo more business development courses. More personal development seminars.
I travelled regularly.
To Kuala Lumpur.
To gulf countries like Oman, Dubai. To all parts of the world.
To seek fresh new ideas.
And to seek mentors and learn from the best in the industries.
To me, once you stop learning, you stop earning.
The best investment you can do is… investing in yourself. 
Even Warren Buffett took a public speaking course when he was 20 years old.
Warren Buffett may be a legend in the investment field, but he is still a firm believer of investing in himself.
……………………………………
…………………..
…………
The idea of continually upgrading ourselves with ilm (knowledge) is synonymous with Islam.
We educate ourselves to what is right. And what it wrong.
How do we know what is right (Amar) and what is wrong (Maaruf)?
Through guidance from the right mentors and acquiring ilm (knowledge) by reading.
When our beloved Prophet Muhammad (Peace Be Upon Him) received his first revelation in the Cave of Hira' through the angel Jibril (Gabriel), he was asked to read (Iqra').
………………………………………………………………………….
………………………………………………………………
…………………………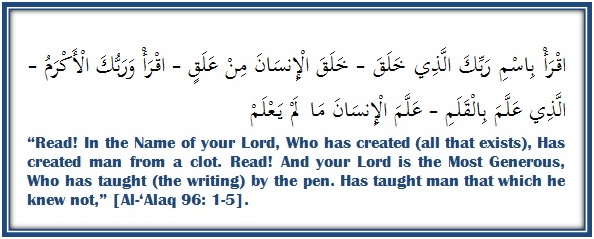 ……………………………………………………..
………………………………………………
…………………………….
The first words that were revealed to our beloved Prophet Muhammad (Peace Be Upon Him)
were 'Iqra' (Read).
and then, Alhamdulillah, our beautiful Deen, Islam was established.
…………………………………………………
…………………………………
………………….
I pray to Allah (SWT) to help us all develop a love for reading beneficial books and increase us in beneficial knowledge. Amin… Amin… Insya'Allah! 🙂
'Allaahumma 'innee 'as'aluka 'ilman naafi'an, wa rizqan tayyiban, wa 'amalan mutaqabbalan.'
(O Allaah, I ask You for knowledge that is of benefit, a good provision, and deeds that will be accepted)
(Recite in Arabic upon rising in the morning)
3. 'Put the big stones in first'
This quote is from Kaskade, a five-time Grammy-nominated musician.
This quote means: to give time and attention to the important things in our lives first.
For example, my 'big stones' (or important things in my life) are my family and my work.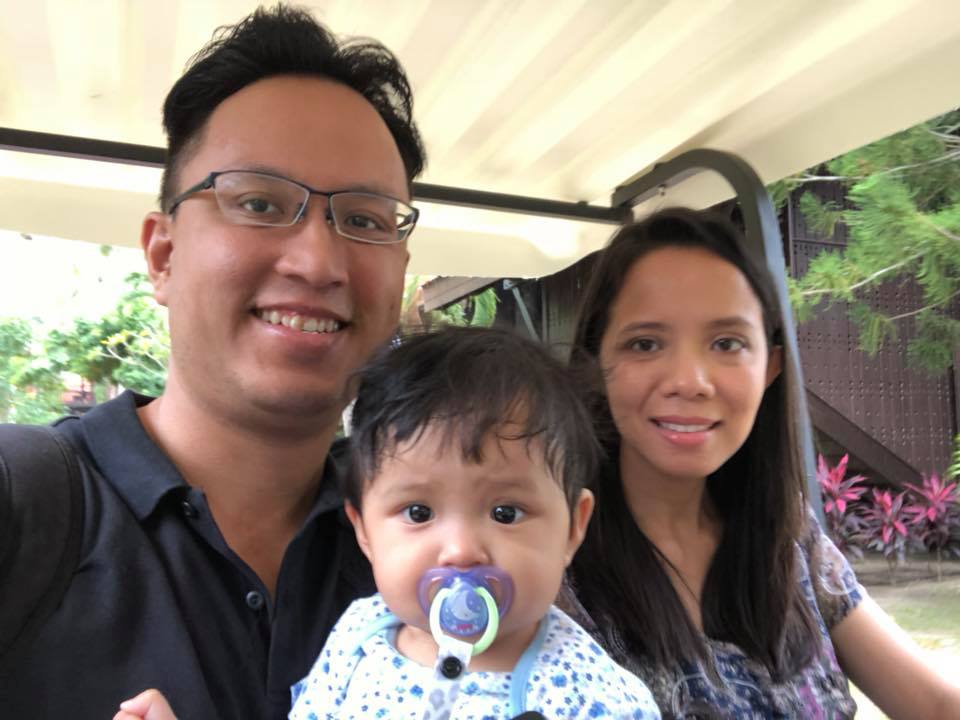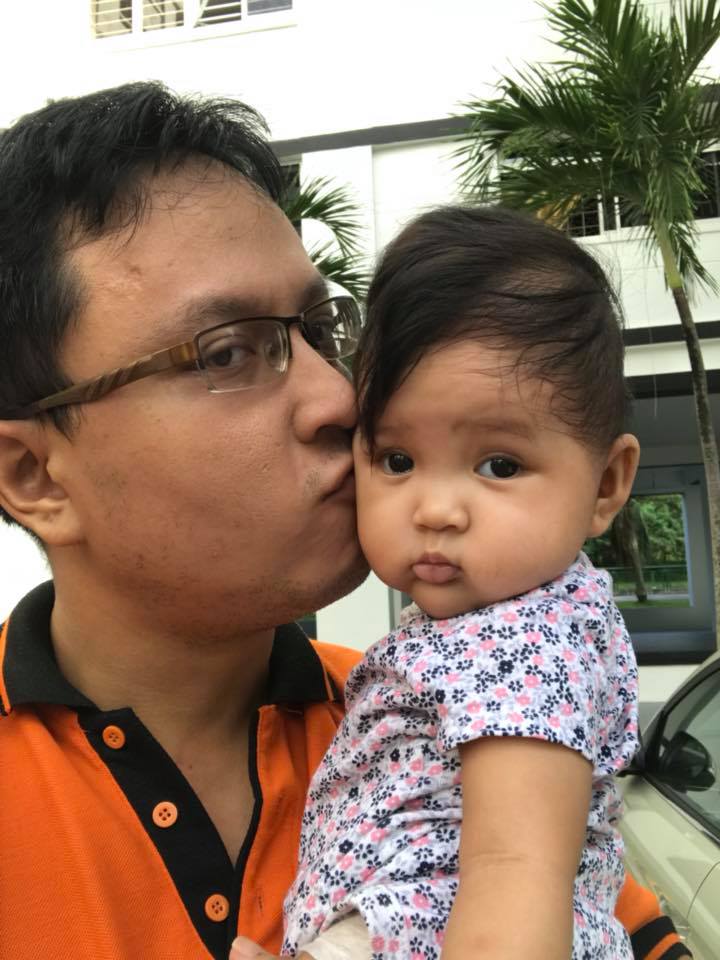 (One of the most important things in life. My family.)
……………………………………………………………….
………………………………………………………….
…………………………………….
Imagine holding a glass jar in your hand.
And you have sand, small stones and big rocks on a table next to you.
When we put the small stones and sand in the jar first, the big rocks can't get in it.
But when we fill the jar with the big rocks first, the smaller rocks and sand can find little corners and spaces to fit in.
Everything fits in the end!
This metaphor means: to block out time every day for the important things (the 'big rocks'), first.
The little less-important tasks will be scheduled around the 'big rocks'.
For work, the 'big rocks' should be tasks which bring you closer to a big work-related goal.
Prioritise what matters 🙂
……………………………..
……………..
………..
4. Conquer Your Fear with 4 Simple Yet Powerful Questions
Most people will choose unhappiness over uncertainty – according to Tim Ferriss.
Many of us are scared of uncertainty and failure.
If you want to try something very much.
Yet, you are too scared to do so.
You can CONQUER that fear using these 4 simple yet POWERFUL questions.
They are…
• What is the absolute worst thing that could happen if you did what you are considering?
• What steps can you take to repair this damage and get everything under control?
• What is costing you – financially, emotionally and physically – to postpone this action?
• Do you know anyone who is less qualified than you who has done this before and pulled it off?
……………………………….
…………………….
……………
When I am confronted with "challenges" in life.
OR when I am presented with an opportunity that sends butterflies to my stomach,
I recalled this ayah.
Surah Al Baqarah, Verse 286 in our holy Quran.
"Allah does not burden a soul, beyond that it can bear."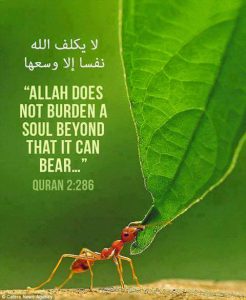 And then, I do my level best to CONQUER that fear using these 4 simple yet POWERFUL questions.
• What is the absolute worst thing that could happen if you did what you are considering?
• What steps can you take to repair this damage and get everything under control?
• What is costing you – financially, emotionally and physically – to postpone this action?
• Do you know anyone who is less qualified than you who has done this before and pulled it off?
………………………………………………..
……………………………………………
…………………..
After answering those questions, usually I will feel good.
More confident.
MORE focused. And MORE EXCITED!
And I start to draft out my plan.
Because I know that 80% of success in any endeavour boils down to preparation!
And that is how I overcome challnges and prepare myself 101% to succeed in whatever opportunities presented to me! Insya'Allah! 🙂
…………………………………………………………….
………………………………………..
…………………………

5. Long term goals need long term focus
When we are going after our long-term goals, frustrations will crop up along the journey.
Some people thought, successful people have it easy.
Chicken feet for them. Everything goes as planned. No challenges.
Easy peasy!
haha! Not true!
Let me give you a real life example that happened earlier this morning! 🙂
……………………………………………………
…………………………………..
……………………
For the past few months, I have been studying brands worldwide and was inspired to have my own uniform.
Takaful.sg set of uniform! 🙂
I want to look good, carry my brand proudly and appear well-dressed in front of my clients.
Thus I spent hours shopping for some good quality shirts.
And sent them to have my logo printed at a printing shop.
Was told that the whole process will take 3 weeks. I waited for over a month.
No calls. No SMS. No whatsapp msges.
Then I decided to pay them a visit.
To my disappointment, when I came down to collect my shirts, the logo was not printed as expected!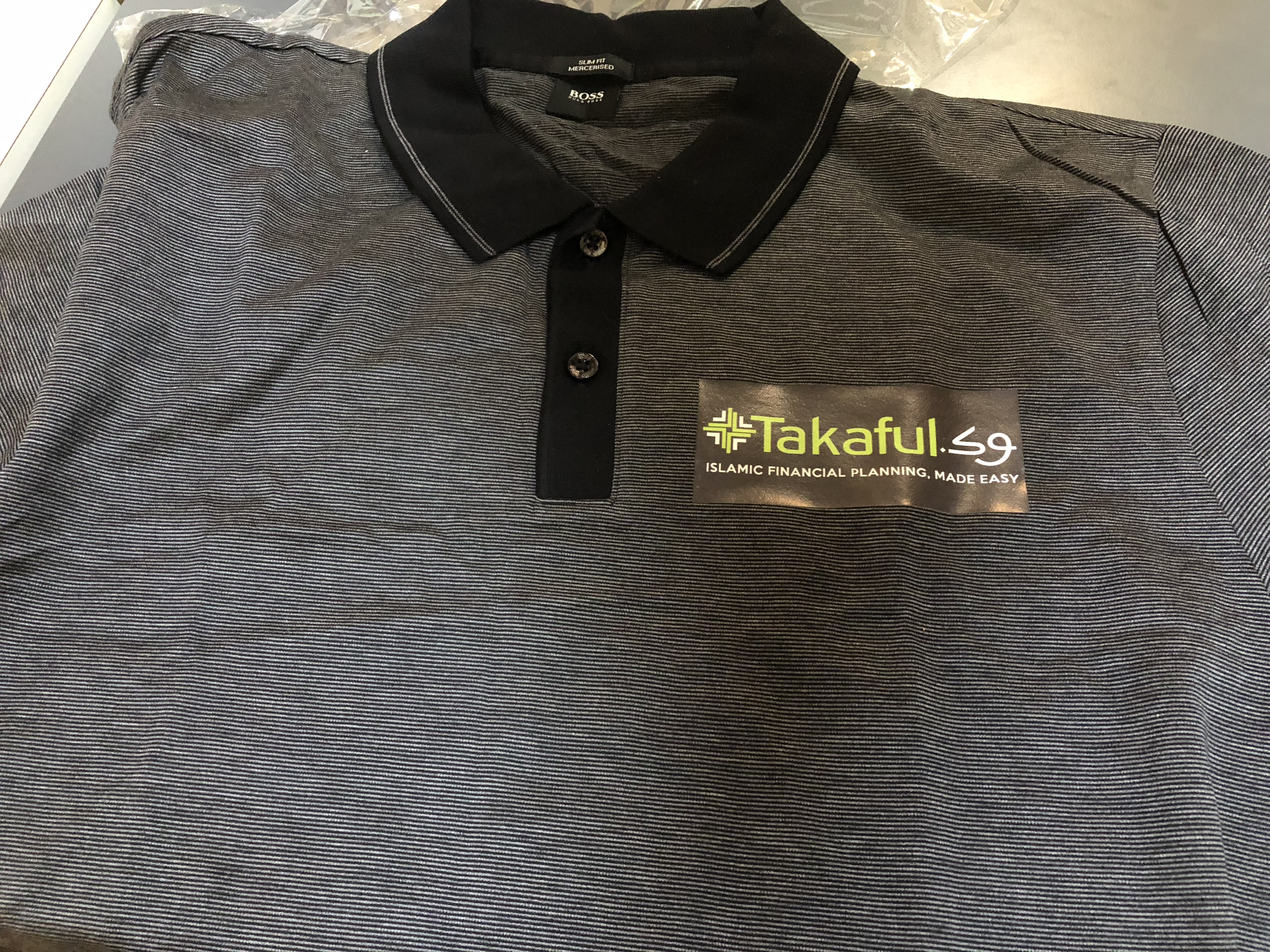 It looks amateurish, like plastic stickers pasted on the shirts!
I felt disheartened. Angry. Sad.
Disillusioned.
Takaful.sg is my baby. Is my brand!
It's what I have been working so hard, day and night to build it to what it is today!
How can they haphazardly smack my brand???!
Then, I recalled what entrepreneur and renowned gymnastics coach, Christopher Sommer (Coach Summer) said in the book,
"Impatience in dealing with frustration is the primary reason that most people fail to achieve their goals."
Facing frustrations is part of the path towards excellence! 🙂
I told myself, we have to stay focused for the long-term if we want to achieve our long-term goal.
We can't be beating ourselves up for small bumps along the journey.
The path to success is never straight! 🙂
"Learn and appreciate the process," mentioned Coach Sommer.
……………………………………
……………………
………….
There you have it 🙂
5 Shariah Compliant Hacks Found in 'Tools of Titans' Book which not many peeople are aware of! 🙂
I have learnt much, much more than just 5 Hacks from this book.
Every time I open this 700-page book, I will come across a nugget of valuable advice which I did not notice before.
Which other self-help book would you recommend? 🙂
……………………………………………………………………………………………………….
…………………………………………………………….
………………….
If you like to integrate more POWERFUL STRATEGIES in your life.
If you will also like to discover aspects on how you can GROW YOUR WEALTH, the shariah compliant way in Singapore, you can always whatsapp/sms me at 96520134 to schedule a FREE consultation.
Or perhaps click here to schedule an appointment.
I make myself available for 5 consultations per week.
Click here to schedule your FREE consultation today!
Take Care! Insya'Allah! 🙂
Latest posts by Helmi Hakim
(see all)