Alhamdulillah. Ramadan is a blessed guest that comes once a year.
In this beautiful month, we Muslims are encouraged to increase our worship
and to be more charitable.
It's a month filled with barakah, where your deeds are multiplied.
And your sins will be forgiven if you are sincere.
When we abstain from food and drink, it's a reminder to be mindful of those around us who are less fortunate.
We also have to watch our words and temper. Ramadan helps us to develop our better self.
So don't be surprise some of our best practices in Ramadan are also useful principles in managing your personal finances.
I termed the concept with the acronym R.A.M.A.D.A.N. so that it is easier to remember. 🙂
Reflect

Ramadan is a time of reflection.
It is a time for introspection.
It is a time where we should take stock of ourselves.
And have an honest assessment of our shortcomings.
It is the time of the year in which we recharge our iman.
And prepare for the challenges facing us over the next 334 days.
Challenges that will test us in the next 8016 hours.
Getting ourselves prepared every single moment.Every single 480,960 minutes to come!
This can only be done if we muhasabah…. pause, reflect on our own faults,
introduce feedforward controls
and implement solutions during this important month.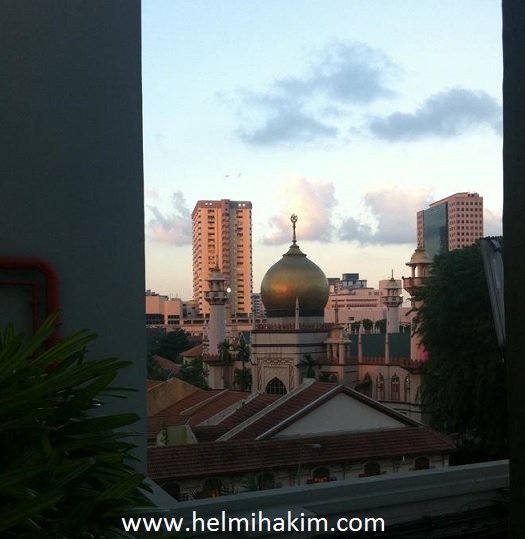 (Beautiful side view of Sultan Mosque)
……………………………………..
…………………………..
…………..
Similar to managing our personal finance, we should reflect and ask ourselves these questions.
Do I have 3-6 months of emergency expenses in my bank account? (Basic Liquidity Ratio)
Have I been saving 20% of my monthly income? (Savings Ratio)
Is my debt service ratio above the recommended rate? Am I highly leverage?
And most importantly, from a perspective of a Muslim, we need to reflect on this.
Have I been paying zakat for my cooperative insurance policies
and shariah compliant investable assets when it hits the nisab value and reach the haul of 1 year?
……………………………………………………
…………………………………
…………………………..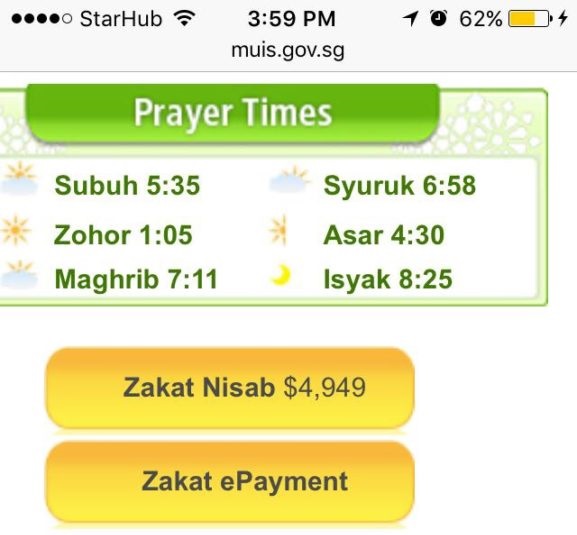 (The kadar nisab as of today, 11th June 2017)
……………………………………………..
……………………………
……………….
These are important questions that you have to ask yourself.
.
The reason why I am bringing this up is because I just received a call from one of my blog readers.
She told me, she paid for zakat fitrah all along.
BUT she has OVERLOOKED paying her zakat harta for her cooperative insurance policies
and shariah compliant investable assets for the past 20 years!
Paying zakat is one of the pillars of Islam.
She is clueless and seeked my advice on what she could do.
Of course, now is the best time for us to reflect on ourselves too!  🙂
…………………………………………….
………………………….
…………………
Absolute Patience
Ramadan is about overcoming base instincts and have patience.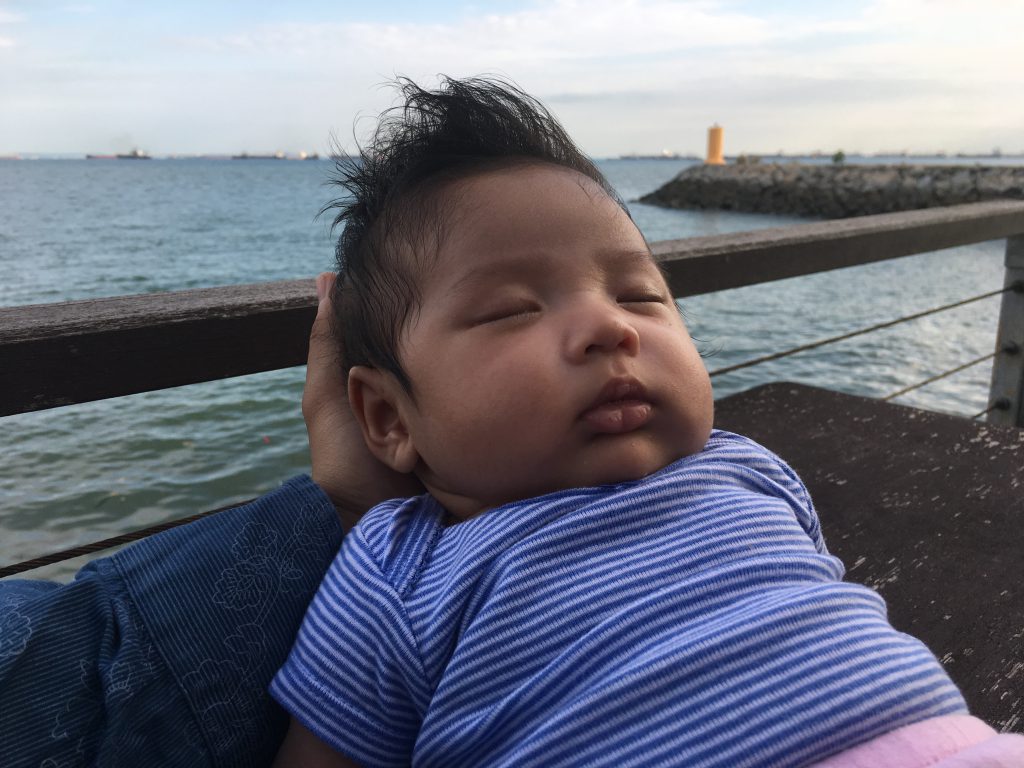 (My newborn baby daughter, Yaslyn Inara relaxing by the sea.)
.
.
It's not easy to withhold hunger and thirst, and to watch your behavior and grab at any opportunity you can to do good.
We are so used to eating and drinking whenever we want.
And also we rarely watch the things we say.
And we tend to be lazy or procrastinate.
So Ramadan forces us to hold back and in doing so, it requires patience on our part.
Absolute patience. No two ways about that! 🙂
……………………………………
…………………….
……………….
Managing your finances is also about overcoming a basic instinct and have patience.
Humans are naturally inclined to instant gratification.
We want things NOW!
We hardly blink an eye eating out everyday or splurging on staycation / new bag / new gadget.
But the moment we need to set aside money for the future, most of us start coming up with all sorts of excuses.
The reason why we are adverse in saving up is because we don't see its immediate benefit.
Although logically we know it's to help us in the future, our base instinct is to enjoy things now.
So understand that in financial planning, you need to have absolute patience.
Be stronger than your basic instinct and commit yourself to save up or invest every month.
…………………………………………………….
………………………………..
……………………
Moderation



Ramadan is about moderation.
Everyday, after Azan Maghrib, I listened to the radio ads on Warna 94.2FM by Health Promotion Board.
It states that 1 out 6 Singaporean Malays from age 18-69 have diabetes.
This is a trend that is unhealthy and worrying.
As someone who loves to eat delicious food, enjoy sumptious buffets with beautiful, tantalising arrays of food,
I find Ramadan not only an opportunity for me to increase my Ibadah.
It is opportunity for me to watch my diet and eat moderately.
We eat heartily for suhoor, as we need energy to get on with the day.
And when we break for iftaar, the food we consume should be in moderation, enough for us to sustain our energy levels for the taraweeh prayers.
………………………………………..
………………………..
Our beloved Prophet Muhammad (Please And Blessings Be Upon Him) has taught us the formula for moderation when we eat our food.
We should fill our stomachs with 1/3 of food, 1/3 of drink and leave 1/3 for breath.
Prophet Muhammad (Please And Blessings Be Upon Him) said: "No human ever filled a vessel worse than the stomach. Sufficient for any son of Adam are some morsels to keep his back straight. But if it must be, then one third for his food, one third for his drink and one third for his breath."
[Ahmad, At-Tirmidhi, An-Nasaa'I, Ibn Majah – Hadith sahih]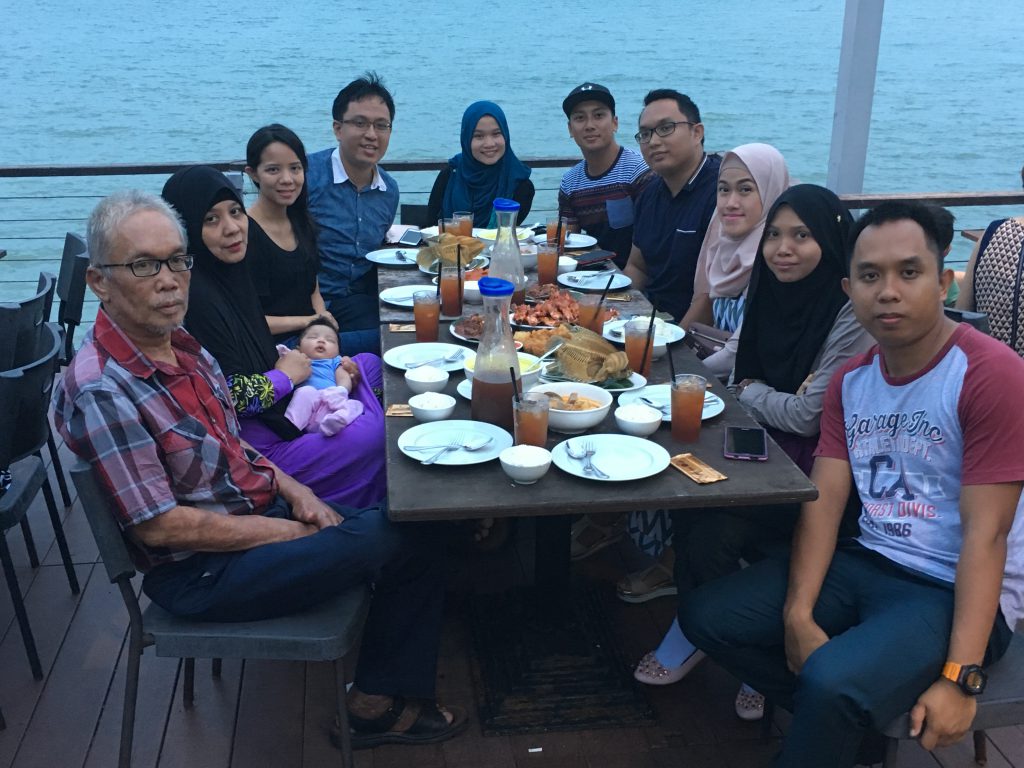 (Myself Iftar with my family near Changi)
……………………………………
………………………….
……………….
Similarly, in managing our finances, we have to practice moderation.
Usually when I encounter very ambitious prospects who wants to start a shariah compliant investment plan with a big monthly contribution,
as a finanial planner, I will dig deep in their finance first.
How much are you earning?
What is your monthly expenses like? After deducting your monthly expenses, how much are you left with?
Do you have 3-6 months of emergency expenses set aside in your bank account?
You mentioned to me that you want to save $XXXX/month. Have you been saving $XXXX/mth for the last 6 months?
Yes? No? Why No?
If they are not ready, usually I would decline them as my client first and share with them strategies on how to accumulate money fast, over the short term period.
Of course, do it the shariah compliant way in Singapore.
Once they are financially stable, meet me again, and I share simple yet powerful financial strategies that I personally use to grow my wealth the shariah compliant way in Singapore.

My role, my relationship with them as a financial consultant is to help grow their investable assets and networth the shariah compliant way in Singapore.
And moderation is key.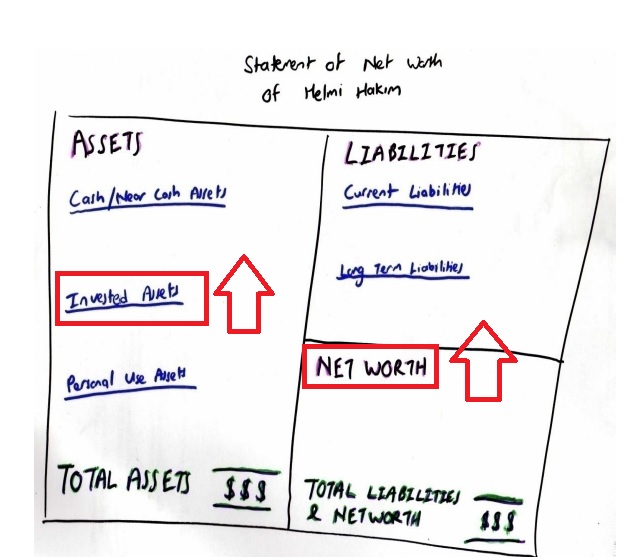 Slow and steady always win the race. 🙂
(You can download a free report of me sharing how you can create your own personal networth statement and cashflow statement in less than 10 minutes even if you have no financial background. Click here. )
………………………………………….
……………………..
……………….
Act On Opportunities
Ramadan is about taking advantage of opportunities.
As mentioned, it's a month where your deeds are doubled in reward and you'll be forgiven for your sins if you're sincere in your taubah. Let's not be fools like the ones mentioned in the following hadith:
Abu Huraira (r.a.) related that Rasulullah (s.a.w) said: Many people who fast get nothing from their fast except hunger and thirst, and many people who pray at night get nothing from it except wakefulness (Darimi).
………………………………………………..
…………………………………..
…………………
Similarly, effective financial planning is about taking advantage of opportunities. You're not going to be young forever.
For example, if you're taking up a shariah compliant insurance plan, you pay less in terms of mortality charges if you're in your early thirties as compared to when you're in your forties. So instead of paying more in the future, why not start early and pay lesser yet still accumulate much more?
………………………………………..
……………………………..
………………………….
Talking about opportunities, a lot of you might be aware that in the year 2008 (subprime mortgage crisis)
which leads to global economic crisis (year 2009),
I help a lot of my clients make money. They make a lot of money.
Yet, I dont make much money.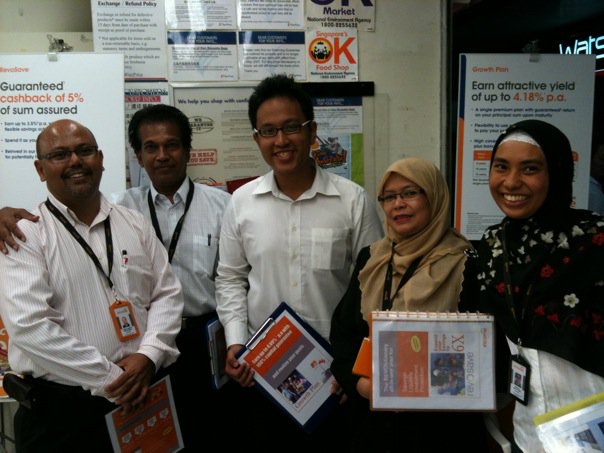 (Myself and my fellow colleagues doing roadshows 10 years ago)
……………………………………………………………
……………………………………………
……………………………………….
At that time, I was 21 years old, just completed my 2 years army, and new to my job as a financial consultant.
In army, we only received about $500/mth, thus naturally I dont have much opportunity funds.
Nevertheless, I have financial knowledge (Diploma in Accountancy), and I managed to convince a lot of people to invest with me.
Yet, I dont have much to invest.
I remembered that Abang who came to me.
"Helmi…. Thank you so much lah for helping Abang make so much money via investment. Very good!
Btw, just want to check with you lah, how much percentage in terms of share of my profit, do you get??"
I answered, "Not a single cent".
I was disappointed. I was sad for myself, yet happy for my clients.
I consoled myself by telling myself,
"Its okay Helmi. Now you are young.
Start saving as much opportunity funds as possible.
In investment, there are market cycles. In the future, when there is a market downturn, make sure you have a lot of money to capitalise on the OPPORTUNITY."
Yes! Prepare and grab opportunities as it comes by! 🙂
Discipline and awesome time management



Ramadan teaches us to be disciplined. It's not easy to go hungry and thirsty, and on top of that be on our best behavior.
This is only achieved through discipline, which comes from the taqwa (consciousness) of Allah.
In addition to that, Ramadan nurtures us to be discipline in how we manage our time.
We have to wake up earlier than usual to do our suhoor, then at night, our time is spent at taraweeh prayers.
So it's very important for us to plan our day right, and this is where being discipline in managing our time well comes in. Otherwise, you'll end up sleeping late and missing suhoor, or you'll be too tired to do taraweeh because you were doing way too much during the day.
…………………
………….
………

(What  I had for suhoor earlier, my protein shake and a drink)
………………………………………………………..
…………………………………..
…………………
Managing your personal finances is also about discipline.
A lot of people thought if someone earns a lot, he automatically becomes rich.
That is a myth. My experiences as a financial consultant tells me otherwise.
I have met someone who earns >$10,000/mth who cannot afford to get savings plan from me (always lapsing his policy and I have to chase for payment).
And at the same time, someone just earning $1,500 who has a few policies with me.
In fact, if you look at that same person, who earns >$10,000/mth facebook, you will be thinking,
"Woah! He is so lucky! So rich! Driving flashy cars and always travelling on expensive holidays all over the world".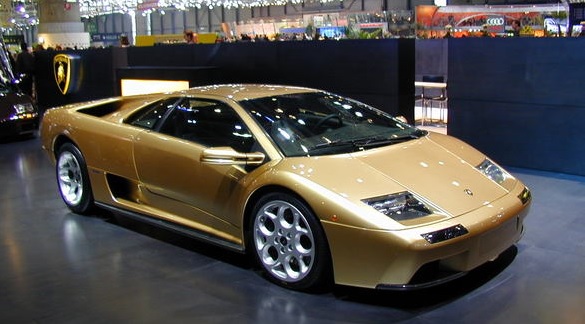 The beautiful part of being a financial consultant is that we dont look at you on the surface.
Expensive cars, branded goods to showcase etc2.
Those are good to have but superficial.
We look directly at your personal financial statements.
Anybody can start a savings or investment plan, but it takes character and utmost discipline to maintain it.
………………………
…………
..

Abstinence from haram stuffs
Similarly, when running a business or making money through investments, we have to ensure that it is Halal.
It is shariah compliant. Free from Riba. Maysir. And Gharar.
On the day of judgement, five basic queries that will be made to every being as per the following Saying of Prophet Muhammad (PBUH):
"The son of Adam will not pass away from Allah until he is asked about five things: how he lived his life, and how he utilized his youth, with what means did he earn his wealth, how did he spend his wealth, and what did he do with his knowledge." (Tirmidhi)
Thus when a lot of people meet me, they realised I am a financial consultant that is different compared to majority of the other financial consultants in Singapore.
I have a different set of philosophies and principles .
When others advice their clients to take as much loans as possible as a form of leverage (as long as fulfil DSR), I advice my clients not to take interest bearing loans. Even if the interest rate is super low. It is because interest is riba. If you have it, clear it asap.
When others advice their clients on financial instruments that involved maysir and gharar, I advice my clients against that.
No short selling of stocks. No speculative financial instruments.
And I advice my clients on how they can scrutinise their portfolio of investments via various shariah compliant screening methodologies like Dow Jones Islamic Markets, Securities Commission Malaysia etc2.
This is important because at the end of the day, we not only want to make money. We want the baraqah and Allah's blessing together with it.
Amin. Insya'Allah.
……………………………………………………………………………………….
…………………………………………………………………..
…………………………….
…………..
Night Of Destiny
A Malay proverb says, "Kita hanya merancang, tuhan menentukan".
I always share with my clients. In life, we can only plan.
Allah S.W.T.  is the Master of Destiny.
As we are approaching the last 10 nights of Ramadan, we Muslims believe there is this one night known as Night of Destiny (Laylat al-Qadr).
On this special night the blessings and mercy of Allah are abundant, sins are forgiven, supplications are accepted, and that the annual decree is revealed to the angels who also descend to earth.
Make Tahajud prayers. Make Hajat prayers.
And when making doa to Allah S.W.T., I share with my clients, family and friends.
Dont make doa like,
"Ya Allah. Make me rich. Give me long life…. and the list continues"
Add these words.
"Ya Allah.
If this is good for me, good for my parents, good for my religion, grant me (what you wish)"
Put your trust in Allah S.W.T.
Biiznillah your doa will be maqbul. And if not, Allah S.W.T will replace with something better.
Insya'Allah. 🙂

……………………
………………
From a spiritual level, the Night Of Destiny is extremely powerful.
From the Imam of Makkah, he said for the last 10 nights of Ramadan,
1) If you donate $1 every night, and it falls under the night of destiny, it means as if you have donated every day for 84 years.
2) 2 rakaat of prayers every night, and it falls under the night of destiny, it means we pray every day for 84 years.
3) Read Surah Al-Ikhlas 3 times per night, and it falls under the night of destiny, it means we have read the entire Al-Quran everyday for 84 years.
(Translated from Ustazah Siti Nor Bahyah Mahamood facebook's sharing, 18th June)
…………………………….
……………………………
………………
So that sums up my R.A.M.A.D.A.N formula.
And how you can learn the good principles of this beautiful month and apply it when managing your personal finance, the shariah compliant way in Singapore.
May Allah S.W.T accept our ibadah and good deeds that we performed in Ramadan. Insya'Allah! 🙂
p.s. By the way, if you wish to discover a simple & halal way to create a positive monthly cashflow and calculate your net worth for FREE, then please click here…
Latest posts by Helmi Hakim
(see all)