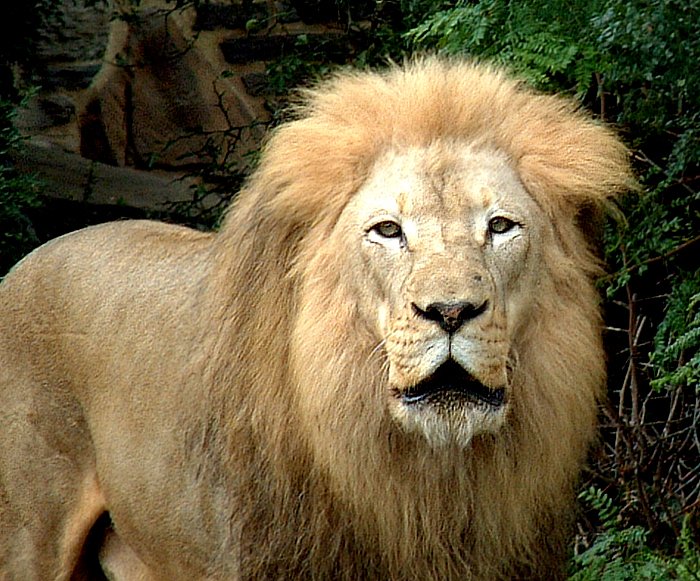 Now, we are coming mid of July. Are you on track to ACHIEVE the goals that you set for yourself? 🙂 Many of us have deviated from our goals. Or at times, totally forgot about it. Today, I want to share with you 5 steps on how you can maintain your laser beam focus to achieve your goals. […]
Continue reading...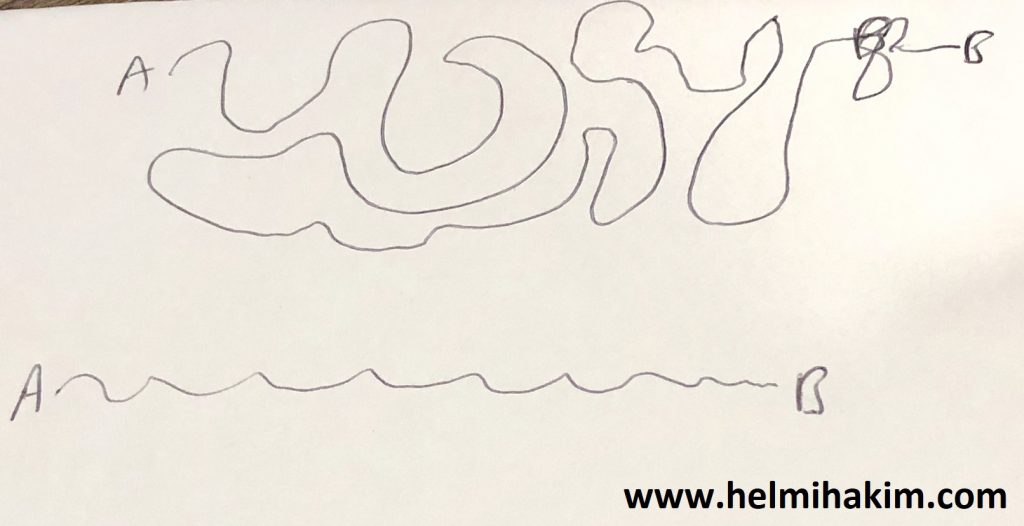 If you look through the feeds of your facebook, 1 theme seems to pop up. Change. Yes. For the first time in the history of Malaysia, the rakyat have voted Pakatan Harapan to form a new government. Tun Dr Mahathir Mohamed returned back to politics as the 7th Prime Minister of Malaysia. And Dato Seri […]
Continue reading...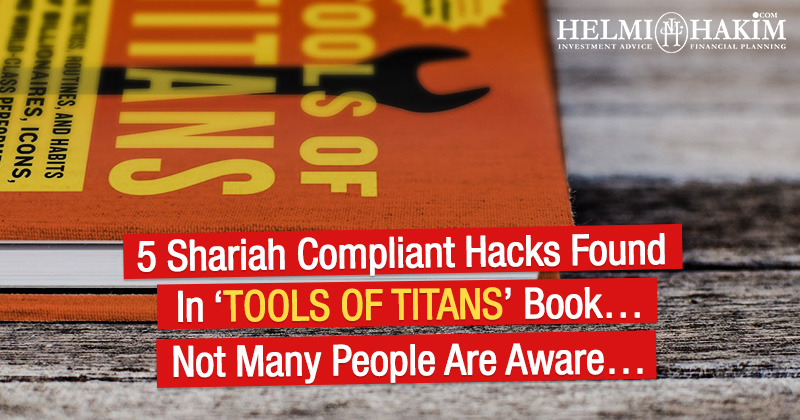 I always believe 2 things will shape you to who you become in life. 1) The People Whom You Spend Most Time With Everyday 2) The Books You Read Alhamdulillah. All Praises to Allah S.W.T. 🙂 A few days ago, I finished reading a New York Times bestseller book: Tools of Titans. This 700-page book was […]
Continue reading...
I am intending to create a series of videos to answer Islamic Finance related questions in Singapore. It can revolves on shariah compliance (what makes it Halal) and viability (can make money or not). Do you have any? Leave at the comments section below. Insya'Allah! 🙂 My other related posts that may interest you: Helmi […]
Continue reading...
Alhamdulillah… My facebook page is up after hiatus for about a year. Please help to like my page here,  www.fb.com/helmihakim.fp/ and then click the button, "See First". I will be creating live videos in the future, sharing specifically how you can save, accumulate and grow your money the shariah compliant way in Singapore. Attached are some […]
Continue reading...
Many of you might have known me as the financial consultant that helps Muslim families plan their finances in a shariah compliant way in Singapore. This time round, I am honoured to be invited to speak on the topic, "Shariah Compliant Ways To Save More Money in Singapore". Alongside reputable lawyer, Mr Abdul Rahman from […]
Continue reading...
A lot of people have asked me. "Helmi Hakim. I want to buy a house in Singapore. I dont have money to pay full in cash thus I have to take a loan. Is there shariah compliant home financing facility in Singapore?" ……………………………….. ……………… ………. I have made it clear that there is NO shariah compliant home […]
Continue reading...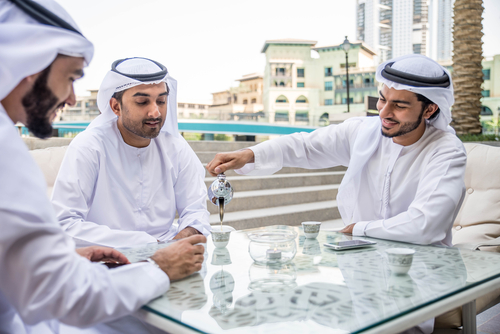 Myth #1:  It is EXPENSIVE. It is only reserved for the rich Arabs. (Arabic Businessmen enjoying a cup of tea) . . Helmi Hakim's answer: Not true. You can start investing in shariah compliant funds with as little as $5/day or $150/mth. Gone are the days where shariah compliant instruments are reserved only for the rich […]
Continue reading...
Time flies. Today is already the last few days we Muslims celebrate Hari Raya Puasa. 🙂 Every Hari Raya Puasa is special to me. Nevertheless, this year Hari Raya Puasa is EXTRA special to me. This is because Alhamdulillah…. It is the first Hari Raya my wife and I celebrate with our 3 months old baby, Yaslyn Inara. 🙂 (Myself, my wife and […]
Continue reading...
So you've set your goals for this new year! Congratulations! 🙂 Hope you did use the S.M.A.R.T method we've talked about before. One of my personal goals for year 2017 is to hit my first MDRT (Million Dollar Round Table), the shariah compliant way. By reaching out to Muslim families in Singapore who like to […]
Continue reading...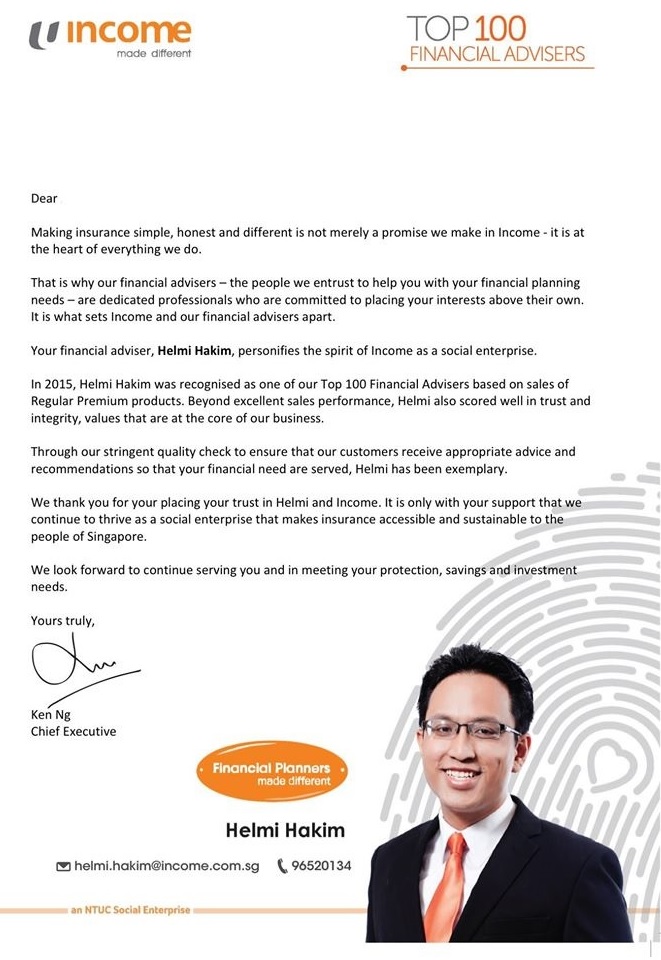 Alhamdulillah… Its official! I am one of the Top 100 Financial Consultants in NTUC Income. 🙂 I would like to thank all my clients for believing in me and trusting me to help you manage your personal finances, the Shariah compliant way. This recognition is important to me, as it is a validation to show […]
Continue reading...